Winner of the Prestigious
"Platinum Digital Accounting Award"
This week, the Ministry of Commerce presented the Platinum award for Thailand's Best Digital Accounting Firm Award 2021 to MBMG Group CEO, Janjira Sumanus, who accepted it on behalf of Hua Hin Accounting and Law, which is part of Thailand's MBMG Group.
The Ministry's Department of Business Development (DBD) Organized the award ceremony for the Best Digital Accounting Firm Award 2021, hoping that it can serve as a model to stimulate accounting firms and professional accountants across the country to be alert to the transformation to digital accounting from manual bookkeeping preparation. In conjunction with the Bangkok based MBMG Group, the Hua Hin branch is a leader in being able to offer and adapt several choices of smart accounting platforms and services which include Xero, Flow, Peak and Nexto.
Janjira (Jan), who has 25 years of experience specializing in law and accounting, said that
70% of MBMG's clients have transformed to the smart accounting collaboration model, and for new customers she recommended going entirely digital at the beginning.
She also noted that nobody has, so far, regretted converting to the smart accounting model which can overall make a business a lot more efficient in terms of both revenue, costs and margins.
Mr. Thosapol Thangsubut, Director-General of the Department of Business Development, revealed that one of the businesses that the Department has always given importance to professional accounting services and digital accounting (with the right adaptation) can usually permit enormous cost and time savings.
MBMG is experienced in setting up an online accounting system, adapting it to your business model and walking through with staff on how to use it. The benefits of this can quickly be seen with up-to-the minute real-time performance figures available on your handset anywhere.
This is important as it can allow visual display of the products that are generating higher sales and margins during a particular day, a week or month, as well as changes in raw material prices or how much cash remains in the bank.
"Our platforms can work anytime, anywhere, on any device and operate in real time, no matter where we and our customers are"


Janjira, who is pictured below, proudly noted.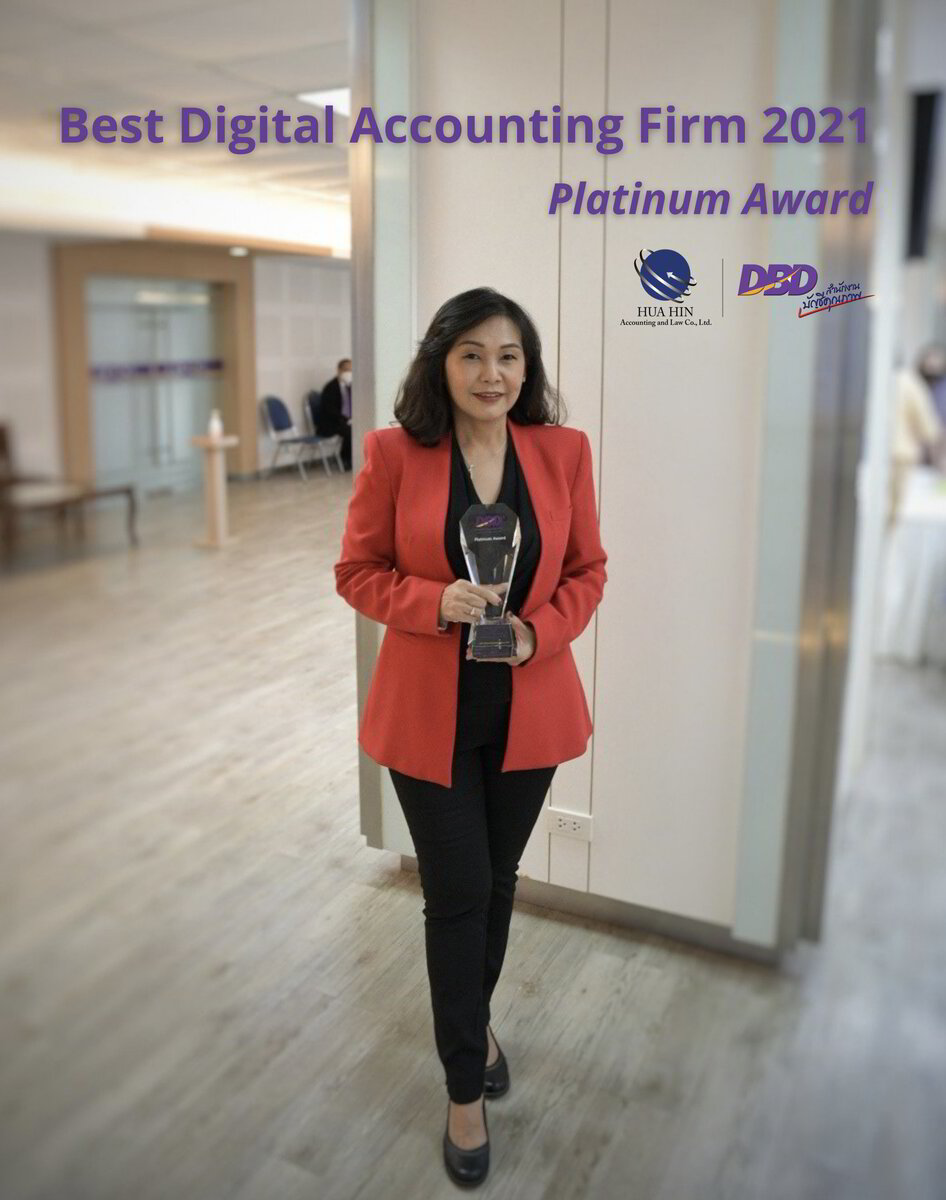 The DBD has continuously implemented quality assurance initiatives for accounting firms that operate businesses in accordance with international standards and these are listed as "Qualified Accounting Firms".
For Qualified Accounting Firms that are fully integrated with digital technology the DBD organized this contest, and the awards were divided into three levels: the top award Platinum followed by gold and silver.
Criteria were several and included an ability to provide quick and accurate processing and reporting, building confidence and awareness in digital accounting, as well as ensuring no loss of data or errors. Another benefit is the less need for printouts and storage of hardcopies.
Smart accounting can also provide relevant accounting information, ratios and appraisals which are useful for planning and business decisions – "it really depends on what our customer would like to see on their dashboard (performance summary) and we can also consult about this" commented Janjira.
MBMG provides a role akin to a business partner,
able to provide turnkey advice over the business cycle.
Promotion:
Stay on Top of Sales with Essential Information … MBMG Smart Accounting Can Help!
Smart accounting software can calculate all your accounting transactions and taxes instantly!
The monthly cost for the software platform is surprisingly very affordable.
Get to know our service with
Special Offer Package for October (Best Value)
Free 2 months fees and an introductory consultation !!
We'll help you and your team get started with our qualify service.
Contact Name

*
Required field!
Type of business
Required field!
About MBMG Group: 
was established in 1996 as Thailand's first broad-based provider and turnkey corporate professional services from the startup of a business and throughout its growth and development while the Hua Hin branch was established almost 10 years ago to serve the growing needs of SME businesses and individuals in that area.
The Group also provides insurance brokerage, a family office and tax consultancy and a Thai SEC-licensed Investment Advisory. MBMG Group is a member of GGI the largest global multidisciplinary alliance of independent accounting, audit, law, and consulting firms.
Contact Us Now!
At MBMG, we use what we believe is the best Smart accounting software available.
The monthly cost for the software and Helpline is surprisingly very affordable while the budget that you need to decide upon is mostly for on the setup, training, implantation of a digital platform bespoke to you.
If you need further information, please do not hesitate to contact us at
Please Note: While every effort has been made to ensure that the information contained herein is correct, MBMG Group cannot be held responsible for any errors that may occur. The views of the contributors may not necessarily reflect the house view of MBMG Group. Views and opinions expressed herein may change with market conditions and should not be used in isolation.